A Yorkshire Tragedy
A Yorkshire Tragedy is an early Jacobean era stage play, a domestic tragedy printed in 1608. The play was originally assigned to William Shakespeare, though the modern critical consensus rejects this attribution, favouring Thomas Middleton.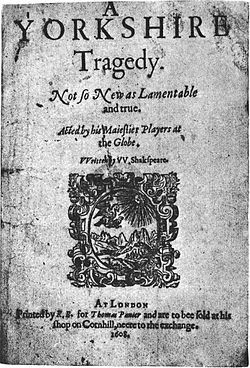 Date and text
A Yorkshire Tragedy was entered into the Stationers' Register on 2 May 1608; the entry assigns the play to "Wylliam Shakespere." The play was published soon after, in a quarto issued by bookseller Thomas Pavier, who had published Sir John Oldcastle, another play of the Shakespeare Apocrypha, in 1600.
The play was reprinted in 1619, as part of William Jaggard's False Folio. It was next reprinted in 1664, when Philip Chetwinde included it among the seven plays he added to the second impression of the Shakespeare Third Folio.