Proust Was a Neuroscientist, by Jonah Lehrer
---
Apparently better informed, the pop-science blogger and writer Jonah Lehrer claimed that Gertrude Stein, Walt Whitman, George Eliot, Virginia Woolf, Paul Cézanne, Igor Stravinsky, Marcel Proust, and the fin-de-siècle French chef Auguste Escoffier were all "artists who anticipated the discoveries of neuroscience" and "discovered truths about the human mind—real, tangible truths—that science is only now rediscovering"; their art "proved to be the most accurate, because they most explicitly anticipated our science" (Lehrer 2007, ix, xi; on Lehrer's fall from grace, see for example Kachka 2012).
---
Vidal, Fernando and Ortega, Francisco. Being Brains: Making the Cerebral Subject (Forms of Living)....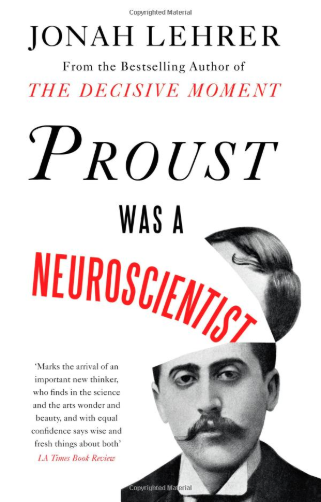 About the book
In this technology-driven age, it's tempting to believe that science can solve every mystery. After all, science has cured countless diseases and even sent humans into space. But as Jonah Lehrer argues in this sparkling debut, science is not the only path to knowledge. In fact, when it comes to understanding the brain, art got there first.
Taking a group of artists — a painter, a poet, a chef, a composer, and a handful of novelists — Lehrer shows how each one discovered an essential truth about the mind that science is only now rediscovering. We learn, for example, how Proust first revealed the fallibility of memory; how George Eliot discovered the brain's malleability; how the French chef Escoffier discovered umami (the fifth taste); how Cézanne worked out the subtleties of vision; and how Gertrude Stein exposed the deep structure of language — a full half-century before the work of Noam Chomsky and other linguists. It's the ultimate tale of art trumping science.
More broadly, Lehrer shows that there's a cost to reducing everything to atoms and acronyms and genes. Measurement is not the same as understanding, and art knows this better than science does. An ingenious blend of biography, criticism, and first-rate science writing, Proust Was a Neuroscientist urges science and art to listen more closely to each other, for willing minds can combine the best of both, to brilliant effect.
Find the book on Amazon:
Lehrer, Jonah. 2007. Proust Was a Neuroscientist. New York: Houghton Mifflin Harcourt.
Jonah Lehrer was accused of and admitted to plagiarizing work in 2012. Below, you can read an article about his comeback at The New York Times, and also find his website and a few videos of him.

A Fraud? Jonah Lehrer Says His Remorse Is Real (image source)