Bill Clinton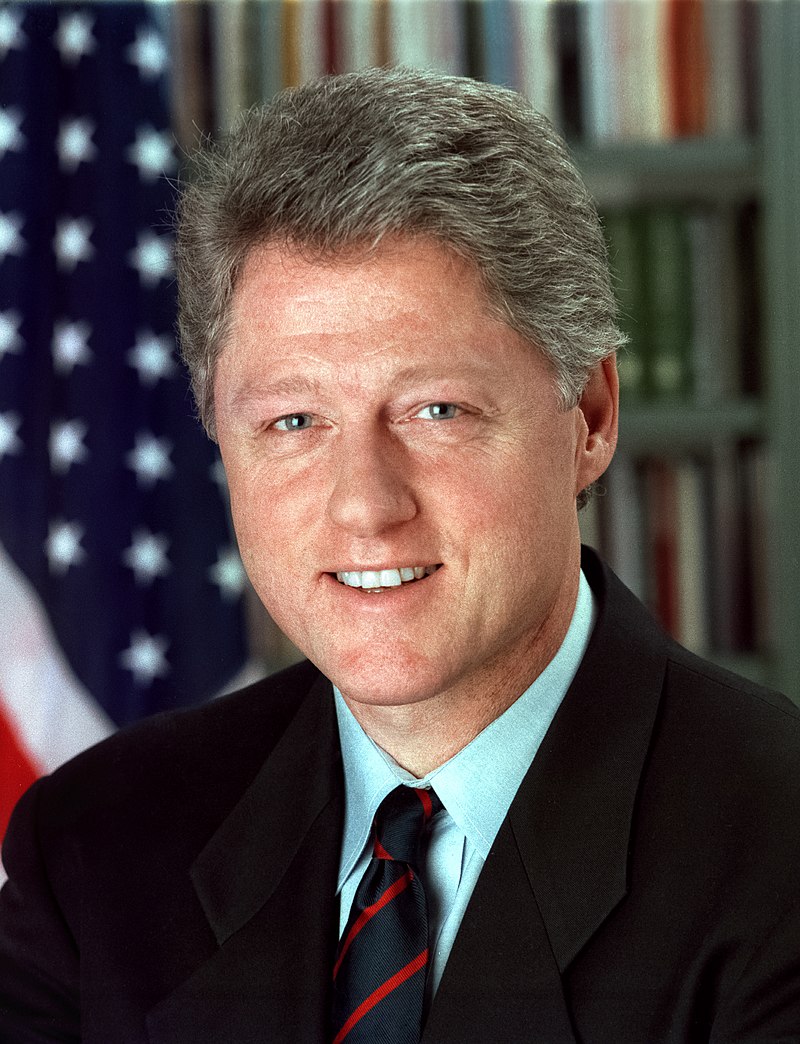 William Jefferson Clinton (né Blythe III; born August 19, 1946) is an American lawyer and politician who served as the 42nd president of the United States from 1993 to 2001. Prior to his presidency, he served as governor of Arkansas (1979–1981 and 1983–1992) and as attorney general of Arkansas (1977–1979). A member of the Democratic Party, Clinton was known as a New Democrat, and many of his policies reflected a centrist "Third Way" political philosophy. He is the husband of former secretary of state, former U.S. senator, and two-time candidate for president Hillary Clinton.
Clinton was born and raised in Arkansas and attended Georgetown University, University College, Oxford, and Yale Law School. He met Hillary Rodham at Yale and they were married in 1975. After graduating from law school, Clinton returned to Arkansas and won election as state attorney general, followed by two non-consecutive terms as Arkansas governor. As governor, he overhauled the state's education system and served as chairman of the National Governors Association. Clinton was elected president in 1992, defeating incumbent Republican opponent George H. W. Bush. At age 46, he became the third-youngest president in history.
Clinton presided over the longest period of peacetime economic expansion in American history. He signed into law the North American Free Trade Agreement (NAFTA) and the Violent Crime Control and Law Enforcement Act, but failed to pass his plan for national health care reform. In the 1994 elections, the Republican Party won unified control of Congress for the first time in 40 years. In 1996, Clinton became the first Democrat since Franklin D. Roosevelt to be elected to a second full term. He passed welfare reform and the State Children's Health Insurance Program, as well as financial deregulation measures. During the last three years of Clinton's presidency, the Congressional Budget Office reported a budget surplus—the first such surplus since 1969. In foreign policy, Clinton ordered U.S. military intervention in the Bosnian and Kosovo wars, signed the Iraq Liberation Act in opposition to Saddam Hussein, participated in the 2000 Camp David Summit to advance the Israeli–Palestinian peace process, and assisted the Northern Ireland peace process. In 1998, Clinton was impeached by the House of Representatives, becoming the second U.S. president to be impeached, after Andrew Johnson. The impeachment was based on accusations that Clinton committed perjury and obstruction of justice for the purpose of concealing his affair with Monica Lewinsky, a 22-year-old White House intern. He was acquitted by the Senate and completed his second term in office.
Clinton left office with the highest end-of-office approval rating of any U.S. president since World War II, and has continually received high scores in the historical rankings of U.S. presidents. Since leaving office, he has been involved in public speaking and humanitarian work. He created the William J. Clinton Foundation to address international causes such as the prevention of AIDS and global warming. In 2004, Clinton published his autobiography, My Life. In 2009, he was named the United Nations Special Envoy to Haiti and after the 2010 Haiti earthquake, he teamed up with George W. Bush to form the Clinton Bush Haiti Fund. In addition, he secured the release of two American journalists imprisoned by North Korea, visiting the capital Pyongyang in 2009 and negotiating their release with then-North Korean leader Kim Jong-il.