Victor Hugo published Notre-Dame de Paris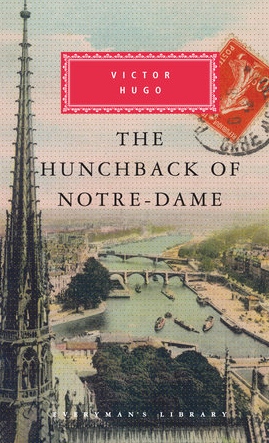 About the book

This extraordinary historical novel, set in Medieval Paris under the twin towers of its greatest structure and supreme symbol, the cathedral of Notre-Dame, is the haunting drama of Quasimodo, the hunchback; Esmeralda, the gypsy dancer; and Claude Frollo, the priest tortured by the specter of his own damnation. Shaped by a profound sense of tragic irony, it is a work that gives full play to Victor Hugo's brilliant historical imagination and his remarkable powers of description. — Goodreads

The Hunchback of Notre Dame on Goodreads

Hugo's grand medieval melodrama tells the story of the beautiful Esmeralda, a gypsy girl loved by three men: Archdeacon Frollo, his adoptive son Quasimodo, bell-ringer of Notre-Dame cathedral, and Captain Phoebus. Falsely accused of trying to murder Phoebus, who attempts to rape her, Esmeralda is sentenced to death and rescued from the gallows by Quasimodo who defends her to the last.


The subject of many adaptations for stage and screen, this remains perhaps one of the most romantic yet gripping stories ever told.

The Hunchback of Notre-Dame is an epic of a whole people, with a cast of characters that ranges from the king of France to the beggars who inhabit the Parisian sewers, and at their center the massive figure–a character in itself–of the great Cathedral of Notre-Dame. Quasimodo, the deformed bell-ringer of the cathedral; his foster father, the tormented archdeacon Frollo; and the beautiful and doomed Gypsy Esmeralda are caught up in a tragedy that still speaks clearly to us of revolution and social strife, of destiny and free will, and of love and loss.

The only widely available hardcover edition of Victor Hugo's masterful historical novel of medieval Paris–one of the most beloved of world classics. — Penguin Random House

The Hunchback of Notre Dame on PHR

Read the full book below:The Hunchback of Notre Dame by Victor Hugo (PDF in English)Notre-Dame de Paris by Victor Hugo (PDF in French)
About Victor Hugo
Victor Marie Hugo (26 February 1802 – 22 May 1885) was a French poet, novelist, and dramatist of the Romantic movement. Hugo is considered to be one of the greatest and best-known French writers. Outside France, his most famous works are the novels Les Misérables, 1862, and The Hunchback of Notre-Dame (French: Notre-Dame de Paris), 1831. In France, Hugo is known primarily for his poetry collections, such as Les Contemplations (The Contemplations) and La Légende des siècles (The Legend of the Ages). — Wikipedia
Victor Marie Hugo on Wikipedia
Image source. Europeana Collections.

Here are some of the movie adaptations that were made of the book, in chronological order:
Below is a video about all the movie versions and, ultimately, Disney's animated film. We've skipped the video for you, to a point where an explanation on how Victor Hugo helped save the Notre-Dame starts. Make sure you don't miss it, it's really interesting!