London Underground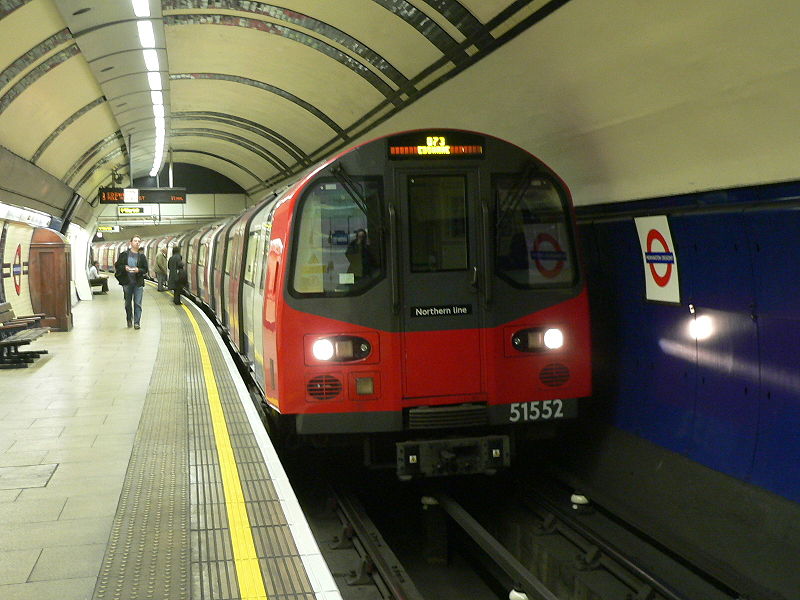 The London Underground (also known simply as the Underground, or by its nickname the Tube) is a rapid transit system serving Greater London and some parts of the adjacent counties of Buckinghamshire, Essex and Hertfordshire in the United Kingdom.
The Underground has its origins in the Metropolitan Railway, the world's first underground passenger railway. Opened in January 1863, it is now part of the Circle, Hammersmith & City and Metropolitan lines; the first line to operate underground electric traction trains, the City & South London Railway in 1890, is now part of the Northern line. The network has expanded to 11 lines, and in 2017/18 was used for 1.357 billion passenger journeys, making it the world's 12th busiest metro system. The 11 lines collectively handle up to 5 million passenger journeys a day.

The system's first tunnels were built just below the ground, using the cut-and-cover method; later, smaller, roughly circular tunnels—which gave rise to its nickname, the Tube—were dug through at a deeper level. The system has 270 stations and 250 miles (400 km) of track. Despite its name, only 45% of the system is underground in tunnels, with much of the network in the outer environs of London being on the surface. In addition, the Underground does not cover most southern parts of Greater London, and there are only 29 stations south of the River Thames.

The early tube lines, originally owned by several private companies, were brought together under the "UndergrounD" brand in the early 20th century and eventually merged along with the sub-surface lines and bus services in 1933 to form London Transport under the control of the London Passenger Transport Board (LPTB). The current operator, London Underground Limited (LUL), is a wholly owned subsidiary of Transport for London (TfL), the statutory corporation responsible for the transport network in London. As of 2015, 92% of operational expenditure is covered by passenger fares. The Travelcard ticket was introduced in 1983 and Oyster, a contactless ticketing system, in 2003. Contactless bank card payments were introduced in 2014, the first public transport system in the world to do so.

The LPTB commissioned many new station buildings, posters and public artworks in a modernist style. The schematic Tube map, designed by Harry Beck in 1931, was voted a national design icon in 2006 and now includes other TfL transport systems such as the Docklands Light Railway, London Overground, TfL Rail, and Tramlink. Other famous London Underground branding includes the roundel and Johnston typeface, created by Edward Johnston in 1916.